In an exciting turn of events, the International Association of Machinists and Aerospace Workers (IAMAW) has received positive news from Air Canada, Canada's leading airline, on Friday, May 26th, 2023.
Air Canada has informed IAM Canada that 19 Aircraft Maintenance Engineers (AMEs) will be recalled in Winnipeg, marking a significant shift in the company's decision to bring work back to this location starting from June 19th, 2023.
This announcement comes as a ray of hope for the AME members and skilled trades across Canada who have been grappling with the aftermath of the pandemic, enduring months and even years of displacement. For many of these individuals, the prospect of returning home seemed like an elusive dream.
During the earlier part of 2023, General Vice-President David Chartrand and other IAM Canada leadership embarked on a tour, visiting skilled trade members stationed in different bases. It was during these visits that they heard countless stories of members who were compelled to uproot their lives or endure long commutes in order to secure employment. The sacrifices made by these workers, such as being separated from their families and communities, in exchange for continued employment, have taken an overwhelming toll on their well-being.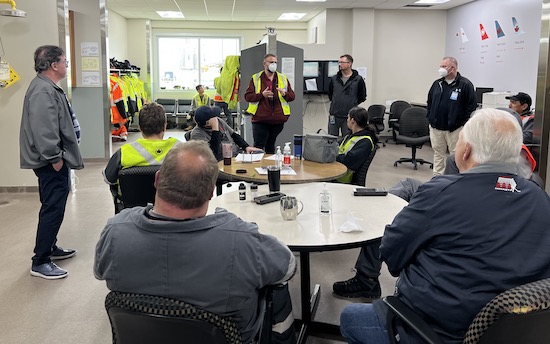 The IAM has been relentless in its pursuit of addressing this issue, with their top priority being to ensure the return of members to their home base. Through persistent advocacy, your union has successfully convinced the employer to relocate more work to Winnipeg. This decision by Air Canada holds the promise of enabling members to finally reunite with their loved ones and communities.
While it is important to note that not all displaced members will receive this recall notice, there is renewed hope that this development signifies a positive trend towards restoring skilled maintenance jobs in Winnipeg, a city with a long-standing history of such work.
The IAMAW commends Air Canada for its decision and remains steadfast in its commitment to continue advocating for the return of all displaced members to their rightful homes.
-30-
For more information:
Frank Saptel,
IAM Canada Communications