By Craig Heron, Professor Emeritus, York University
How will you acknowledge the 1st of May? The provincial government probably won't let you dance around a Maypole in any local parks. So maybe we can take a moment to ponder how people in Canada have celebrated this day more soberly for more than a century.
The history of May Day is wrapped up in the struggle for an eight-hour day. In North America May 1St was traditionally a day for workers to make new wage demands for the year, as the seasonal shutdowns came to an end and business picked up. That explains why the American Federation of Labor in the United States chose that date in 1886 for workers to demand an eight-hour day from their employers. Thousands of workers participated in that movement, and each spring for several years after, US unions renewed their demand for shorter hours, usually to no avail.
In 1890 European socialists picked up the demand and made May Day an annual demonstration calling on governments to introduce the eight-hour day. As the US May Day actions faded, the Europeans continued to draw out thousands of workers marching behind red flags and brilliant banners. It became their Labour Day. It was also a celebration of international solidarity among "Workers of the World."
Canadians watched these developments from the sidelines. We had had Labour Day celebrations at the beginning of September since the 1880s, but only in 1906 did Montreal socialists organize the first parade to celebrate May Day. Three hundred of them marched through the downtown sporting red ribbons and pins before returning to their rented hall for speeches in English, French, Russian, and Italian. The following year 10,000 people rallied on the Champs de Mars in defiance of police efforts to stop them. As they began their march, the police seized their red flag and banners and eventually drove them back on horseback with truncheons. The socialists successfully fought numerous assault charges in court. Parading continued in subsequent years in Montreal with unions, unemployed workers, and huge crowds for the speeches. The local immigrant community turned out in large numbers.
Only in the 1920s did the practice of parading on May Day spread to other cities, this time under Communist sponsorship. Police repression was even heavier by the end of that decade. In the early 1930s, however, the organizers in several cities won the right to march on May Day. Crowds came out in huge numbers in many places. By the mid 1930s 6,000 paraded in Winnipeg, 15,000 in Vancouver, 25,000 in Toronto. In western Canada May Day replaced Labour Day as the annual workers' festival. The signs and banners, the floats, the chants, the songs, the speeches all had a radical, often bluntly anti-capitalist message.
The Cold War killed most of this large-scale public parading. By the 1950s the annual events were pale shadows of their former glory. Left-wing groups have continued to try to revive the celebration of May Day down to the present, often resorting to simply a meeting in a hall. Only in Quebec did May Day undergo a true revival. In the 1970s the radicalized labour movement there launched major demonstrations on May 1st and drew out thousands in several cities.
Social distancing will rule out parading on May Day 2021. But we can nonetheless recall that for many years thousands of Canadians used that occasion to proclaim their disgust with the society in which they lived and their hopes for a better world. As we contemplate life after COVID 19, the spirit of those early May Days is a tradition worth keeping alive.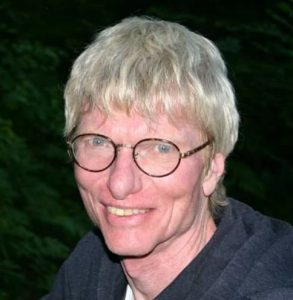 Craig Heron
Featured image of fist from sabrangindia.in