IAM 3111 CULR member Mary Shortall has done just about everything in the world of labour. Now, she's walking away from that part of her activism. She was President of the Newfoundland and Labrador Federation of Labour (NLFL) for almost a decade.
But Shortall isn't just walking away from the NLFL, she's also running – for the NDP in federal politics. She ran as a candidate in the 2021 election, but hopes to have a successful run in the next federal election, whenever that may be.
Matt Barnable, Grand Lodge Representative for the Atlantic provinces, said, "Mary Shortall has taken her place in Newfoundland and Labrador labour history. Mary's tireless activism for the community, for workers, for her union and province, truly embody the spirit of the Fighting Newfoundlander. The IAM stands firmly behind Mary in her future endeavours."
Shortall, who led the NLFL for more than nine years, said, "While nine years may be a long time, the work of activism is never finished. I may have retired from the job, but never from the movement." Shortall will continue her work of transforming the world by running for the NDP in the next federal election.
Rick Arsenault, retired GLR for the Atlantic provinces, said of Shortall, "Mary was a great union leader and was very instrumental in advancing the labour movement in Atlantic Canada. It was a pleasure working with her."
Shortall's Facebook profile says she is "Worker, community, political activist, feminist and proud President of the NLFL". IAM Canada couldn't agree more.
The NLFL represents more than 25 affiliated unions, including the IAM, and represents 70,000 members across the province.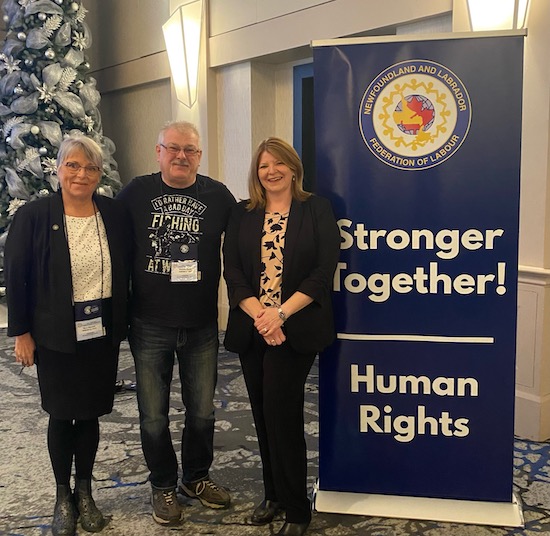 (L to R) Mary Shortall, Thomas Howe President of IAM Automotive Trades Lodge Local 544,
and Kelly Codner CLC representative for NL (and IAMAW CULR 3111 member)
at the Newfoundland and Labrador Federation of Labour Convention.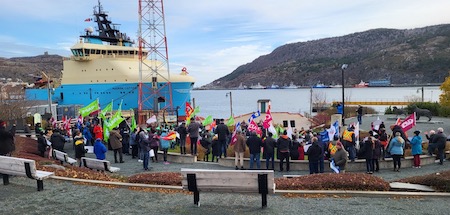 Delegates took a break from the Convention and rallied at Harbourside Park in St. John's, NL.
Mary Shortall addressed and brought up issues critical to helping Newfoundlanders.