Toronto, ON – To say that the IAM's new Organizing initiative has been successful would be an understatement with 3,253 new members joining the Canadian ranks since January 1, 2018.
To keep that momentum going there has been a strong emphasis placed on forming Local Lodge and District Lodge Organizing Committees to assist organizers in growing the union. On May 10-11th, IAM Grand Lodge Organizer Scott Jackson, IAM District Lodge 78 Business Representative/Organizer Ropy Bhansingh and IAM Transportation District Lodge 140 Organizer Sam Jabbar, facilitated Local Organizing Committee training for Districts 78 and 140.
"Under the new Grand Lodge Organizing initiative, we educated the committees that not every industry or group is suitable for the IAM or its Districts to organize," explained Jackson. "We utilize the SWOT principle, which means on any given target, we study its strengths, weaknesses, opportunities and threats. In some cases the opportunities may be there but the potential threats to success may outweigh the strengths and so on."
"We described the use of existing membership to find and develop new targets," said Bhansingh. "An organizer can only do so much on their own, organizing is very much as team undertaking. We explained the difference between a lead and a target and how to find both. We also conducted role playing on how to talk to a cold lead."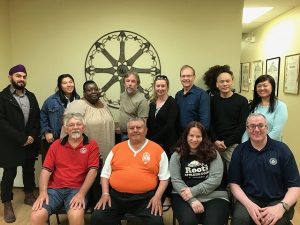 A basic overview and PowerPoint presentation was given of the provincial and federal Labour Acts and Codes with regard to organizing an appropriate group. An officer of the Canada Industrial Relations Board, Warren Nelson, spoke to the group on a variety of issues including when you can approach a worker to sign a union card, as well as what an employer looks for when challenging an union organizing drive. He also spoke of the significance of collecting $5.00 when signing cards. "Failure to collect $5.00 from a potential member when they sign a union card during an organizing campaign and documenting the receipt of that money, can cost you the overall campaign if its challenged," explained Jabbar. "I can't emphasize enough the need to be thorough in this regard, there has to be a paper trail and it has to be accurate. The time and effort we put into a campaign can be wasted because we neglected to follow this simple step."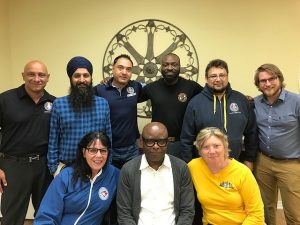 It was a lot to take in over a two day period but there are now plans underway to schedule an annual organizers summit.
-30-