GVP Dave Chartrand discusses the importance of organising and the
Third Annual International President's Excellence in Organizing Awards
March 3, 2022
IAM International President Robert Martinez Jr. and IAM Organizing Director Vinny Addeo recognized our members recently for their continued efforts to grow the strength of the IAM and working families with a virtual presentation of the third annual International President's Excellence in Organizing Awards.
"The efforts our organizers and leaders put into growing our great union and restoring the voice for working men and women everywhere through bargaining power," said Martinez.  "I want to thank Organizing Director Vinny Addeo, the Organizing Department and all the organizers in every Territory for their dedication to working families and to growing the IAM."
Awards for 2020 were given for the top District or Local from each respective territory, top individual organizer from each respective territory, top organizing territory and top individual organizer.
"Our world, and the way we organize, changed in 2020," said IAM Organizing Director Vinny Addeo. "Our entire union, and everyone recognized here, did not stop their work growing our union. We adapted and found new ways to reach potential members. We are incredibly grateful to every IAM organizer for their tireless efforts and outstanding accomplishments."
Watch the IAM's Instagram reel featuring behind-the-scenes coverage of the organizing awards.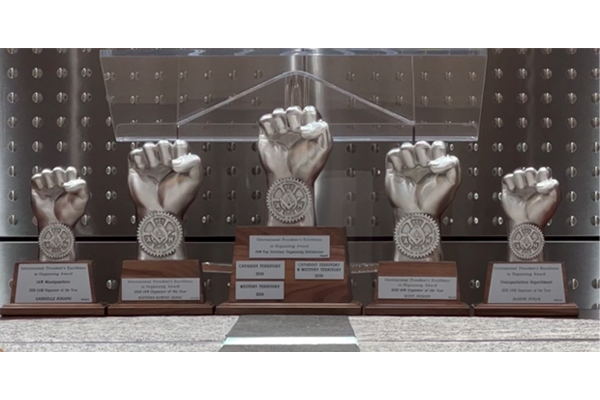 2020 International President's Excellence in Organizing Awards
IAM Top Territory Organizing Distinction: Canadian Territory and Western Territory
IAM Organizers of the Year: Canadian Grand Lodge Representative Scott Jackson and District 78 Organizer Rootisha Rampat-Sukhu
Top District/Local Organizing Distinctions
Western Territory: District 725
Southern Territory: District 75
Eastern Territory: District 65
Midwest Territory: District 10
Canadian Territory: District 11
Transportation Department: District 141
Organizers of the Year
Western Territory: District 947 Business Representative Jennifer Marin Esquivel
Southern Territory: District 776 Organizer Chubbs McCrory
Eastern Territory: District 65 Directing Business Representative Ronald Warner
Midwest Territory: Special Representative Chris Tucker
Canadian Territory: District 78 Organizer Rootisha Rampat-Sukhu
Transportation Department: Grand Lodge Representative Joseph Stassi
Headquarters: Grand Lodge Representative Gabrielle Rogano