(Photo: l to r Colby Briggs, Malcolm Lewis-Richmond and Celyn Dufay)
30 January, 2023
Ottawa, ON – More labour staff are joining the IAM and gaining strength in numbers. 140 staff working for the Professional Institute of the Public Service of Canada (PIPSC) have joined the IAM. Canada's newest local is IAM Local Lodge 3011, based in Ottawa, Ontario.
Staff comprising servicing representatives, administrative, clerical, finance, mobilisation, organising and many more, wanted to be part of the same union as their colleagues who joined the IAM in 2019. Those 35 members of the Professional Institute Regional Employee Council (PIREC) joined the IAM after doing their due diligence on which union to join.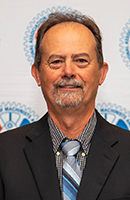 Scott Jackson, IAM Canadian Territorial Organising Leader (TOL) worked with the newest PIPSC group. "It took six months before they joined, but the new members stuck with us and wanted to get it done, said Jackson. "They had resolved to join the IAM and the leaders of the group saw the IAM advantage. Now, they are our newest members," he concluded. The length of the campaign was due mostly because staff are still working remotely and in-person meetings were difficult to organise.
Wanting critical mass in order to be in a better bargaining position and to address workplace concerns, the PIPSC staff now number almost 200. The IAM welcomes them enthusiastically.
-30-
For more information:
Scott Jackson, IAM Canada Territorial Organising Leader
Frank Saptel, IAM Canada Communications