Edmonton, AB – The axiom that you can retire from the job but not from the union was in  evidence at a recent retirees meeting of IAM District 14. Members gathered to honour their elder statesman, Norman Bezanson, with a birthday cake, he is 88 years young. Norman was the District's founder and original Business Representative.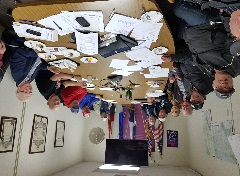 (from left to right) Dan Uchacz –LL 1722 and former Business Representative, Leondar Lee Loza LL99 Finning, Peter Lesiuk LL 99 – Finning, Larry Dahl LL 99 – Leavitt, Ambrose Yap  LL99 – Finning, Ken Okerman LL 99-  Finning, Jack Grey LL 99 – Finning, Lyle Brewster LL 99 – Finning, Tom Anderson LL 99 – Finning, Joe Segreto LL 99 Finning, Frank Gluwchynski LL 99 – Finning, Norman Bezanson LL1722 – CAE Aviation.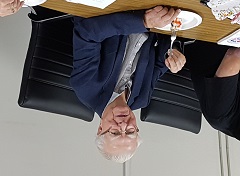 Norman Bezanson was the original Business Representative and founder of IAM District Lodge 14.