Flin  Flon, MB – Canadian General Vice President Stan Pickthall makes a point of conducting at least 50 site visits per year to meet with our membership in their workplaces. He has flown from coast to coast to coast to meet with the members but his recent visit to Flin Flon, Manitoba, the term face-to-face, took on a whole new meaning. The first day of his two-day visit to the Hud Bay mining facilities consisted of touring the above-ground facilities like the smelter, but the second day, he descended 1.5 kilometers below the surface to meet with members at Mine 777.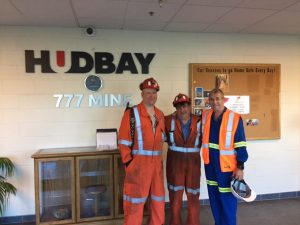 Left to right – IAM Local Lodge 1848 Vice President Ryan Hassel, IAM Local Lodge 1848 President Rene Beauchamp.
'This was a new experience for me, dropping down 1.5 kilometers through solid rock to an entirely different world," said Pickthall. "The amount of heavy equipment down there and the pace of the work is truly impressive. I had the privilege of talking to Local Lodge 1848 members who work in this hot, humid work environment and I know they earn every dollar of their pay. Our members are used to it, but this is a site visit I won't soon forget."
Pictkhall met with over half of the Local Lodge 1848 membership during the site visits both above and below the surface. He also had the opportunity to attend the Local Lodge meeting. "Our members in Flin Flon showed us exceptional Northern hospitality and made us feel welcomed throughout our visit," said Pickthall.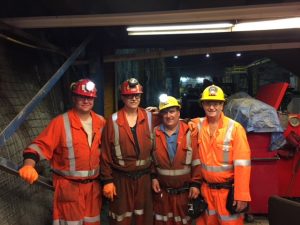 -30-