Vancouver, BC – It was known in the past as Tampon Tuesday, an effort to promote public awareness of the need to make menstruation products available to those who need it. The United Way of Lower Mainland has rebranded its efforts as The Period Promise, a new campaign with the goal of ending "period poverty", by collecting money, pads and tampons to give to people who need them. The response has been nothing short of outstanding and members of the IAM have been part of it.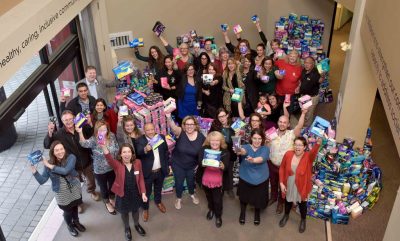 "We have to bring awareness to the issue," said IAM District Lodge 250 Directing Business Representative Walter Gerlach, who sits on the campaign cabinet and is a spokesperson for the campaign video. "It's hard to imagine that there are women who must decide to miss school or work because they can't afford to purchase the product. But it's another aspect of poverty that needs our attention and the response has been truly amazing with over 500,000 products donated so far."
The Machinists motto is justice on the job and service to the community and the IAM has always contributed to community efforts of the United Way. Janet Andrews, Secretary Treasurer of the New Westminster Labour Council and member of IAM Local Lodge 764 made a presentation on behalf of the United Way to the New Westminster District School Board on February 26th. The Board Trustees voted in favour of supplying free pads and tampons in school bathrooms. The decision will improve access to menstrual products for local students, reducing the vulnerability and isolation caused by period poverty.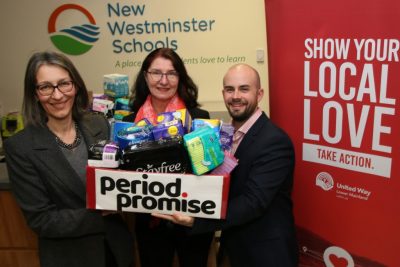 Selina Tribe (left), Janet Andrews of the New Westminster District Labour Council, and Neal Adolph of the United Way of the Lower Mainland, all spoke in favour of free menstrual products at a New Westminster School Board meeting February 26.
The Government of British Columbia went one step further in early April when it announced that all schools must provide free tampons and pads to students in school washrooms by year's end. It's the first province in Canada to do so.  "This is a common-sense step forward that is, frankly, long overdue," said Education Minister Rob Fleming. "We look forward to working with school districts and communities to make sure students get the access they need, with no stigma and no barriers." That ministerial initiative also includes $300,000.00 in provincial startup funding to ensure the school districts have the money to meet the new requirements.
The province also announced that it's providing a one-time grant of $95,000.00 to support the United Way Period Promise research project. That funding will pay for menstrual products at up to 10 non-profit agencies and for research into the best way to provide services and products.
-30-