Mississauga, ON – A piece of Canadian Labour history occurred on the evening of Thursday, January 17, 2019 in Streetsville, Ontario, a suburb of Mississauga just west of Metro Toronto.
While hockey moms and dads escorted their children into the Vic Johnston Community Center for yet another undertaking of Canada's national sport, union activists and members trekked into the carnivorous confines of the adjacent Hazel McCallion Hall to hold the first meeting of IAM Local Lodge 1231.
The four member executive had never done anything like this before and even though they had undergone training at the W3 Education Centre in Maryland, it all came down to this first meeting. Professionally, they are Personal Support Workers employed by Spectrum Health Care, they provide in-home assisted health care to thousands of clients in the Greater Toronto Area (GTA). That's their day job, but on this night they are tasked with representing the concerns and aspirations of more than 2,200 PSW's and 400 nurses, the members of IAM Local Lodge 1231, for the first time.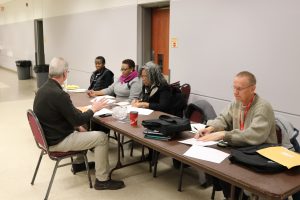 IAM Grand Lodge Representative Ralph Martin walked them through the procedures during an executive meeting, one hour before the general meeting. There was explaining the code of conduct, the need to have everything written down and recorded, the reading out of correspondence, the reading out of committee reports – in this case being the first meeting, committees had to be formed before any reports are written – new business – in short a lot of take in if you have never done it before.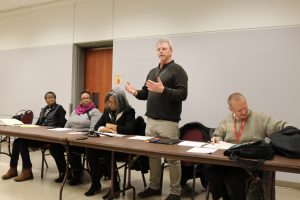 "They are a very eager group," explained Martin. "They want to learn but this will take time, so this was the first step and like all first steps, there was some hesitation by the members because this was unchartered territory, but they pick things up quickly."
The sound of the shiny new gavel striking its base to bring the first meeting to order had to compete with thumping hockey sticks emanating from the dressing room next door. A normally soft spoken president, Merry St Bernard, actually had to raise her voice to begin the meeting. Things progressed smoothly as each member of the executive became acquainted with the order of business and what role they would play. When they asked the members if they had any questions or concerns, the first issue took a matter of seconds to come out – the distribution of disposable gloves to workers in the field.
Now to the lay person this may sound trivial but keep in mind, these members cover an area from Peel Region in the west to Durham Region in the East, roughly 100 kilometers wide and another 45 kilometers north and south to York Region. So when you see on average 10-12 patients or clients per day, you can go through 20 pairs of gloves quickly. When you run out, you have to return to the main office to restock and that can interfere with a member's daily schedule. The solution, came from Vice President Marcia Stone – find a central distribution point within the GTA so that members can meet at a designated time to restock. "I work in Brampton and my shift ends at one o'clock, so it's no problem for me to fill the trunk of my car with boxes of gloves at the start of my shift," she explained. "I can meet later in the day with members at a designated place in neighbouring Mississauga to distribute the gloves."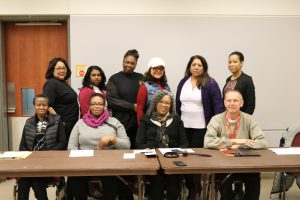 Everyone attending thought this was a great idea that has applications for the entire Spectrum Healthcare system. Ralph Martin will bring this suggestion to the employer within the week. It may sound like a simple solution but the point is, it was arrived at by discussion and consensus by the members, something that would not have been possible without a union.
-30-