9 August, 2018
For immediate release
Toronto, ON – Pearson Airport in Toronto keeps ringing with the sounds of victory as more workers are joining the IAM! The IAM got a great victory at Pearson Airport with the Sunwing Aircraft Engineers and their supervisors.
"This is a solid group of workers. They stood together with the union throughout the whole process of certification. They stood as one," said the IAM District 140 Organizer Sam Jabbar.
I have never seen such solidarity among a group of workers like this in any other campaign – and I've worked on a lot of campaigns.  This group was determined and motivated to join the IAM and nothing was going to stop them. Ultimately, nothing did," said Jabbar.
"Now the next step is to get them better wages, benefits and working conditions and we are ready for that step," he concluded.
The IAM is the largest aviation union in Canada representing aircraft engineers from coast to coast with Air Canada, Field Aviation and Air Transat.
Sunwing Airlines Inc. is a Canadian low-cost airline headquartered in the Etobicoke district of Toronto, Ontario and is the second-largest tour operator in Ontario.
The IAM is among the largest industrial trade unions in North America, representing more than 500,000 active and retired members, and administers more than 5,000 contracts in transportation, woodworking, aerospace, manufacturing, service, health services and public services workers.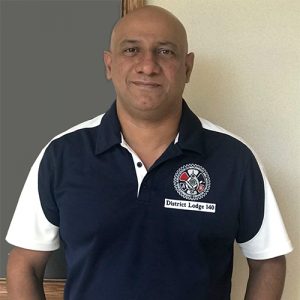 – 30 –
For further information:
Sam Jabbar
Organiser, IAM District Lodge 140
416-875-8140
Frank Saptel
Communications Representative, IAM Canada
416-386-1789