Victoria, BC – Canadian General Vice President Stan Pickthall made his first western Canada site visits of the year to Vancouver and Victoria, B.C.
Automotive is one of the IAM's fastest growing sectors in British Columbia and one of the Union's strongest areas is in the provincial capital of Victoria. District 250 Directing Business Representative Walter Gerlach and DL 250 Business Representative John Humphrey toured three Victoria dealerships with Pickthall and Chief of Staff Gord Falconer . Members at Wheaton GM/Cadillac, Glen Oak Ford and Harris Chrysler Dodge all had a chance to express their views and ask questions of their GVP. "Automotive is significant sector of the IAM Canadian membership and the largest concentration of our automotive membership is in the lower mainland and on Vancouver Island," explained Pickthall. "It's always beneficial for me to talk to our members and get their feedback."
Pickthall wrapped up his Victoria tour with a visit to members at the Federal Government Dockyards at CFB Esquimalt.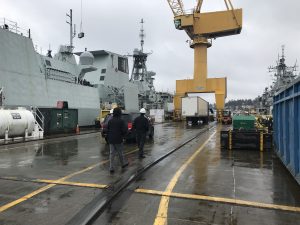 Joined by IAM Transportation District Lodge President and Directing Chairperson Fred Hospes and General Chairpersons Todd Haverstock and Steve Prinz, Pickthall visited with IAM members at Vancouver International Airport. He took the opportunity to meet with Air Canada Ramp, Cargo and baggage personnel and Swissport Cargo and ramp workers.
-30-