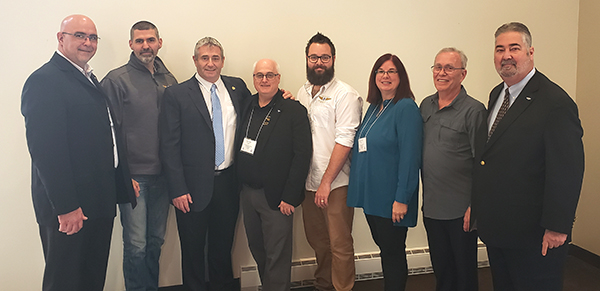 The 22nd triennial convention of the Québec Machinists' Council (QMC) took place last week in the historic town of Victoriaville, QC. IAM International President Robert Martinez Jr. and IAM Canadian General Vice President Stan Pickthall attended and spoke to the delegation.
"Thank you for everything Québec has done, is doing and is planning to do," said Martinez. "I am pleased to have a very special relationship with our brothers and sisters here in Quebec. Together we stand strong."
The importance of organizing was among the initiatives Pickthall included in his address.
"Canada is the top territory in welcoming new members," said Pickthall. "And we thank each and every organizer for spreading the word."
Pickthall also talked about the IAM Canadian aerospace strategy, political action, member education, as well as automation and technology change.
"The conference was an opportunity for delegates to review the achievements and guide the actions of the Québec Machinists' Council for the next three years," said QMC President Éric Rancourt. "We discussed labor transformation, union, social and political struggles and how to keep members engaged."
The QMC was involved in a number of fundraising activities, all of which contributed to raising an eye-popping amount of money. The council raised money for the Handicap Action Autonomie Bois-Francs (HAABF), an organization that brings together people with physical disabilities of all ages residing in the territory of Arthabaska Regional County Municipality.
"The IAM will be contributing $12,000 to this worthy charity, which supports people with disabilities in Victoriaville," said Pierre Grenier, Montréal District 11 Directing Business Representative. "Victoriaville opened its arms and its community to the IAM for our CMQ Convention this week. It is our mandate and responsibility to give back to the town of Victoriaville, and we are pleased to be able to make this donation to HAABF on behalf of all Machinists."
Inspired by the fundraising activities of the QMC, Martinez made a commitment to support the charity with a $5,000 contribution on behalf of IAM members across Canada and the U.S.
QMC President, Éric Rancourt presents a cheque to HAABF representatives.