Kingston, ON – It's not often that an IAM Canadian GVP can open his remarks to the OPCM with satisfaction but Stan Pickthall was beaming. "I am proud to tell you that over the first part of 2018, the IAM has brought over 3,000 new members into our union in Canada," he said to the 66 delegates in attendance.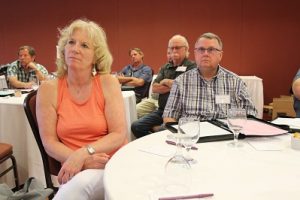 "This is the direct result of a great deal of hard work by our team of well-trained IAM Reps and Organizers across Canada who have gotten the message about Strategic Organizing. Spectrum Healthcare with 2,400 new members thanks to the great work of GLR Ralph Martin and Organizer Scott Jackson and the officers and members of District Lodge 78. Great work by GLR Michel Richer with the full support of engaged officers and membership of Local Lodge 1751 which brought 400 ramp and airport groomers at Swissport in Montreal into our union. We recently added a further 75 new members in Montreal at Tekalia Aerospace. There was great work by Sam Jabbar and Tal Rayat who produced voluntary recognition of 280 wheelchair assistants at AAS at Toronto Pearson after a contract flip."
Pickthall also spoke of successful campaigns at ATS in Calgary which produced 120 passenger service agents as new members, CLC Business Representatives have formed their own IAM Local Lodge 3111and new members at Cat Rental Store in Alberta, a BMW dealership in Victoria, Carillion – formerly Smarte Carte and Aerospace Welding in Montreal.
Pickthall also addressed the new IAM Aerospace Strategy. He touched on the monthly meetings designed to create an Aerospace Strategy, the development of a Policy Paper to lobby our politicians and our expanding growth in the Aerospace Tech Hub in the world of Commercial aircraft. "We are the largest Union in Canadian aerospace and we plan to stay there," he told delegates.
Regarding the Ontario June 7th election, Pickthall pulled no punches. "I have already voted and I am supporting the NDP," he said. "Andrea Horwath has a comprehensive platform that is good for working families and she will tax the wealthiest corporations to pay for it. I say it's about time wealthy corporations paid their fair share."