Toronto, ON – More than 1,000 delegates rose to their feet applauding Ontario NDP Leader Andrea Horwath for pledging to create a universal provincial pharmacare plan. The pledge came during the Ontario New Democratic Party Convention held in Toronto April 21-23, 2017
"Just like Tommy Douglas started in one province and built Medicare step-by-step, we're going to start building universal pharmacare right here in Ontario," Horwath said. "You shouldn't have to empty your wallet to get the medicine you need. No family should have to rack up debt to treat an illness – and no one should ever go without the treatment they need because of cost."
"There are many in Ontario who split their pills in half to make the bottle last longer," said Horwath. "Or they leave the doctor's office with a prescription they need, knowing they'll never fill it because of the price.
Shocking statistics reveal that 25% of all Ontarians don't take their medication as prescribed because of high drug costs, and 2.2 million Ontarians have no prescription drug coverage at all. With a growing number of people working non-traditional or precarious jobs, the cost of medications is increasingly a barrier to healthy lives.
"My plan is affordable, and when we think of the risk to people's health from skipping their medication – even the risk to their lives – it's clear that we can't afford not to implement universal prescription Pharmacare," said Horwath. "This plan will mean lower cost, less worry and better health for everyone."
Staying close to NDP roots in a campaign-style speech, Horwath also promised that the NDP would buy back Hydro One shares, 30% of which were sold off by the Liberals.
The NDP would also safeguard public assets, ensure a $15 minimum wage, worker protections, childcare and transit funding, including working with First Nations to improve education and ensure clean drinking water, proper health care and safe housing.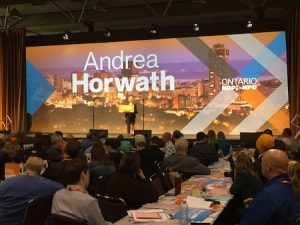 ONDP Leader Andrea Horwath as she makes her historic announcement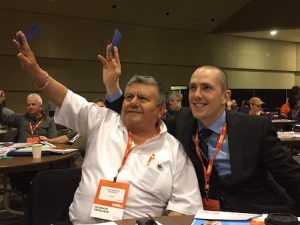 Experience and Energy – Left: IAM LL1295 retiree Plutarcho "Chico" Pacheco
and rank-and-file member from IAM Local 54 in Kingston, Jonahan Caverly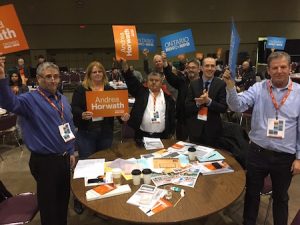 IAM Delegates to the Ontario NDP Convention, left to right foreground: Canadian General Vice-President Stan Pickthall; Kim Valliere, Business Representative DL 78; Plutarcho "Chico" Pacheco, retiree LL1295; Jonathan Caverly, LL54; Gary Hynes, GLR
Background: Derek Ferguson, DBR DL78; Gord Falconer Canadian Chief-of-Staff
(Not in photo: Frank Saptel, Communications Representative IAM Canada)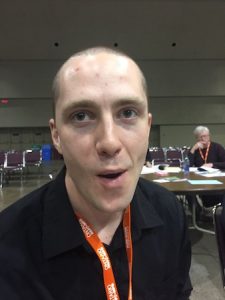 Jonathan Cavalry, LL54 in Kingston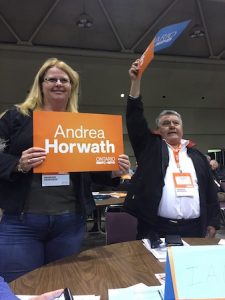 Kim Valliere and "Chico" Pacheco liked what they heard
from ONDP Leader Andrea Horwath

IAM member Andrew Mackenzie speaks to the relationship of labour and the NDP