Victoria, BC – Seven weeks after the provincial election, there is a new government in British Columbia and for the first time in 16 years, it is not liberal. The NDP will form a minority government after the Liberals under Christie Clark were defeated June 29th in a non-confidence vote, 44-42 in the legislature.
Clark met with Lt. Governor Judith Guichon for ninety minutes June 29th, asking for the dissolution of the house and a new election. However the request was denied, calling instead upon NDP leader John Horgan to form the next government and getting an assurance that the NDP-Green alliance would have the confidence of the legislature
The timeline for what happens next for the new government is still up in the air and a date for swearing in B.C.'s 36th premier remains unknown. How long this new government will last depends a great deal on the strength of an agreement between NDP leader John Horgan and Green Party leader Andrew Weaver. Weaver has pledged his caucus's support to the NDP on matters of confidence.
Horgan says the top priorities he wants to focus on immediately are the fentanyl crisis, softwood lumber agreements and public education. "I couldn't be happier with this chain of events," said a pleased Walter Gerlach – IAM District Lodge 250 Directing Business Representative. "This more than justifies our belief in the Machinist Votes program. Under the program we time-released our members from work to volunteer as political organizers in constituencies during the period of the writ. I'm pleased to say in 82 per cent of those constituencies where our members participated, an NDP member was elected."
Photo of Christie Clark: The Liberal premier asked for a dissolution of parliament and another election after she lost a non-confidence vote but the Lt Governor Judith Guichon said no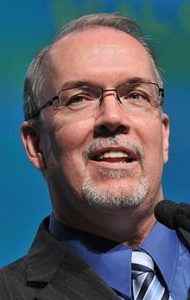 Photo of John Horgan: The 36th premier of British Columbia says the fentanyl crisis, softwood lumber agreements and public education are his top priorities.
Photo of Andrew Weaver: The Green Party leader has pledged his caucus's support to Horgan on matters of confidence