Toronto, ON – As the new IAM Canadian Research Director, Ivana Saula, hasn't had much time to catch her breath. She officially started her new job on September 1, 2018 and began with back to back assignments – the PAC symposium and the IAM 2018 Aerospace Conference.  "I'm still absorbing things but I'm impressed with how militant and strong this union is," she explained after her first two weeks on the job. "These members live and breathe it, more than any other union I've encountered."
"It was a good indoctrination for her and I think she handled it very well," said IAM Canadian General Vice President Stan Pickthall.
"It's a lot to take in right off the start but everyone has been very welcoming, I never felt left out, everyone shared information willingly and freely, so it's been easy to establish connections," said Saula. "This has saved me more than three to four months on the learning curve, the information I got wasn't second hand, and I saw it for myself. I've never been inside a plant before I visited the Lockheed Martin facility in Fort Worth, which was important as it gave me insight into how our members work, the pressures they experience and the pride they take in their work"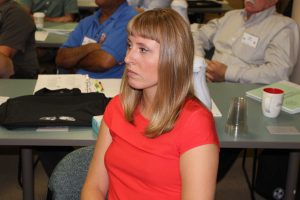 Ivana Saula brings extensive research and education development experience to her new role. She comes to us from the Professional Institute of the Public Service of Canada where she started the education program for both stewards and members. She cut her union teeth with the Manitoba Nurses Union, where she led a project that was the basis of a successful lobbying campaign leading to legislative amendments and inclusion of the nursing profession under presumptive legislation for Post-Traumatic Stress Disorder. This project marked a major milestone in both legislative and policy contexts nationally and internationally. Ivana also has experience in studies examining labour markets, having research experience on a province wide study of precarious work and poverty.
She understands the importance of framing issues in a way that advocates for not just IAM members but the labour movement as a whole. "Member interest is foremost in the research I produce, it is all about them," she said. "I want them to be proud of what I do. I welcome the opportunity to apply my knowledge and experience in the service of our members and this great organization."
 -30-