Monday April 23, 2018
For Immediate release
North Bay, On – Members of IAM Local Lodge 2922 have ratified a new multi-year agreement with Berry Global.
The agreement provides wage increases of 1.5 per cent in the first year retroactive to March 1, 2018 and 2 per cent in years 2, 3 and 4 respectively. Other agreement highlights include:
Progression between classifications reduced from 24 months to one year
Increased vision care benefits
Increased safety footwear allowance
Increased vacation entitlement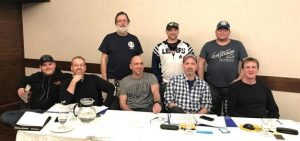 IAM Local 2922 member John Lagasse (far left front) and trustees Chris Demarchi, and Derek Peters join negotiating committee members Terry Rennette, Kevin Causton, Rob Ethier, Shane Hazlehurst, Rob Aultman after the members ratified a new 4 year agreement.
The 160 members manufacture fabric and film protective solutions specializing in the production of wide width coated polyofelin products for a variety of Health-care, Hygiene and Specialty end-uses.
-30-
For further information:
Derek Ferguson – IAM District Lodge 78 Directing Business Representative
416-225-9003/519-807-3106
Bill Trbovich – IAM Director of Communications
416-386-1789 Ext #31/416-735-9765