Monday February 26, 2018
For Immediate Release
Toronto, On – The average age of long-term care residents in Ontario is 85 years old and many of them suffer from significant medical conditions requiring extra care, including dementia, Alzheimer's disease and others.
The Ontario government has been underfunding long-term care for decades and that sector is in crisis. In fact, Ontario's long-term care system is the least funded of any system across Canada.
"The IAM represents numerous long-term care workers, and we have heard many testimonials from nurses and PSWs (personal support workers) on the urgent need for more public funding," said Canadian General Vice President Stan Pickthall. "The dedicated workers in this sector, including nurses and PSWs, need more time to provide much-needed care to residents, so that seniors can live with dignity on a daily basis."
Bill 33, the Time to Care Act, addresses this critical issue of increasing the number of hours of hands-on nursing and personal support services provided to those residents each day. The bill requires a minimum standard of daily care of four hours per resident. That average can be increased by regulation.
The bill, introduced in the Ontario Legislature by NDP Health Critic France Gélinas, was unanimously passed at second reading on November 2, 2017. During the debate, Gelinas pointed out: "Families across this province are worried. They are concerned with the treatment that their loved ones are receiving in long-term care and they want legislators to protect our most vulnerable citizens with a minimum of hours of hands-on care … Ontarians living in long-term care deserve our protection."
"This legislation is long overdue," explains Pickthall. "Ontario's seniors have waited far too long to be provided with the care and support they deserve. No more delays – the Time to Care Act needs to be passed now!"
The Ontario Federation of Labour (OFL) is organizing a rally on February 27 at Queen's Park to send a clear message to the Premier and all the MPPs: make Time to Care the law in Ontario.
-30-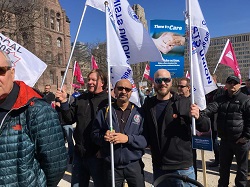 For further information:
Stan Pickthall – IAM Canadian General Vice President
416-386-1789 Ext #23
Bill Trbovich – IAM Director of Communications
416-386-1789 Ext #31/416-735-9765