02 November, 2018
TORONTO – Pearson Airport's Terminal One was the scene of important changes to Canada's Labour Code yesterday. Federal Labour Minister Patty Hajdu announced legislation improving Canada's labour standards as outlined in Part III of the Labour Code.
Stan Pickthall, Canadian General Vice-President said of the changes, "the parts of the Labour Code have been mostly unchanged since they were first enacted in the 1960s. The IAM has been very clear on the need for many of these changes. That is why we engaged in a resolute campaign of political action for the last 5 years – in Ottawa, as well as in MPs constituency offices across the country."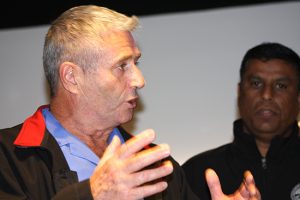 "The IAM has been pushing for changes to the practice of "contract-flipping" and we are glad these changes have been proposed. For too long, our members and other workers saw a constant downward spiral in terms of wages, benefits and working conditions," said Pickthall. "Wages will now be protected, as well as the workers' rights to a job. We are glad the IAM played a major part in this."
GVP Pickthall also told the Minister that the IAM would continue to fight for the improvement of workers' rights across Canada. "Our members generally have better wages, benefits and working conditions than most other airport workers, but we will continue to fight to raise the standards for ALL workers," he said. "We like these changes but will continue to hold your feet to the fire for further needed changes."
The proposed changes would improve the basic rights of workers in federally-regulated private sector industries, such as banking, telecommunications and interprovincial and international transportation and would affect almost 900,000 workers.
Other proposed changes to the Canada Labour Code include:
enhancements to the Wage Earners Protection Program (WEPP)
improvements to pay equity in the federal sector
The IAM represents the greatest number of airport screeners in Canada, as well as at Air Canada and many other companies which are airport-related.
– 30 –
For further information:
Stan Pickthall (416) 386-1789
Frank Saptel (416) 579-0481