Paris, France – For three days, a Québec IAM delegation met with representatives of French aerospace workers, including those of Airbus, seeking common ground to meet the challenges ahead. The visit to France was considered essential in the wake of Airbus obtaining a majority stake in the Bombardier C-Series program.
"We went there looking for possible collaborations between our union and theirs," explained IAM Québec Coordinator David Chartrand. "We came away with open lines of communications with our French counterparts and what I feel is the beginning of a broad international alliance between aerospace unions in Europe and North America. The channels are now open"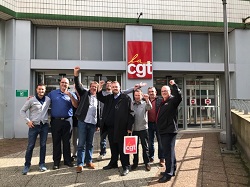 Patrick Correa – CGT International representative, Eric Rancourt – IAM DL 11 Business Representative,  Frederic Bourges – personnel steward Safran, Xavier Petrachi (member of direction federal metallurgie CGT, Guillaume Valois – IAM LL 712, David Chartrand – IAM Québec Coordinator, Pascal Bouillé –  central steward CGT at Zodiac Aerospace, Pierre Grenier  – IAM DL11 Directing Business Representative
David Chartrand, Éric Rancourt, Yvan Ricordeau – Confederal secretary Cfdt, Guillaume Valois, Jerome Morin – general secretary Cfdt F3C, Pierre Grenier
Chartrand was joined by IAM District 11 Directing Business Representative Pierre Grenier and IAM District 11 Business Representative Éric Rancourt. They met with representatives of the General Confederation of Labour (CGT), the French Democratic Confederation of Labour (CFDT) and the Force Ouvriére.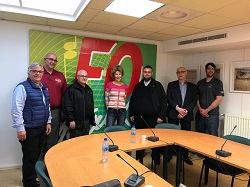 Marc Ambiaux – FO Chairman European Airbus SE-works council, Eric Rancourt, Pierre Grenier, Maria Perez –Industriall Aerospace Vice President FO Representative, David Chartrand, Philippe Fraysse – Federal secretary FO Metallurgy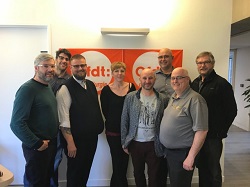 Alexandre Boury – Central steward Stelia Aerospace, Guillaume Valois, David Chartrand, Caroline Blot – Federale International Secretary, Stephane Destugues – National Min e & Metallury secretary, Eric Rancourt, Pierre Grenier, Didier Hacquart – Coordinator Cfdt Airbus Group
 "When representatives of Airbus met with us in Montréal in March of this year we were told about their vision of including Canada and its workers in its plans moving forward, " explains Chartrand. "When we talked about this with our French union counterparts I was pleased to discover we are on the same page. We're all getting the same message that the employer wants to grow its footprint in Canada and that the French unions are fine with that. Our counterparts do not fear Canada, their order books are full and there is no fear of job loss, they see us as a positive."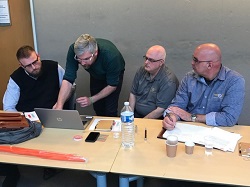 David Chartrand, Alexandre Boury, Pierre Grenier, Éric Rancourt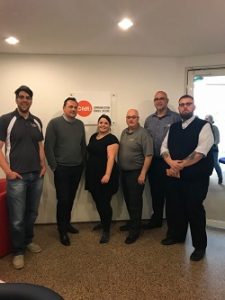 Guillaume Valois, Jerome Morin – general secretary Cfdt F3C, Marie Buard – National secretary Cfdt, Pierre Grenier, Éric Rancourt , David Chartrand
Discussions also included the practices of Airbus, Stelia Aerospace, Safran, Thales, Latecoere, ATR, Bombardier and Boeing. The presence of Airbus and the C-Series limited partnership in Mobile, Alabama was also discussed.
"Our next step will be the bargaining of a new contract with Airbus regarding C-Series IAM workers and we will be exchanging information with our counterparts on an ongoing basis," said Chartrand. "Our French counterparts were wonderful hosts in demonstrating how they operate there. We have agreed to exchange visits inviting them to Montréal to tour our facilities here and we'll send a delegation to Toulouse to tour the aerospace clusters over there. We'll see new technologies and strengthen our alliance further."