Montréal, QC – The day was chilly but the fund raising results warmed the hearts of more than 200 participants in the IAM District 11 maman Dion Foundation annual charity golf tournament.
"The IAM stands on two major principles – Justice on the Job and Service to the Community," said IAM Canadian General Vice President Stan Pickthall. "This gathering is an illustration of the commitment and passion of our IAM members in supporting families and children who don't enjoy the opportunity and privilege that is afforded to those of us who are here today. The golf tournament raised in excess of $60,000.00 for the Foundation this year.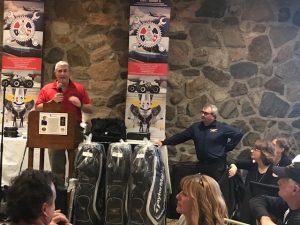 The maman Dion Foundation provides children from disadvantaged backgrounds in Montréal and all regions of Québec with basic school materials, clothes and glasses following an examination by an optometrist. The Foundation encourages academic growth, self-esteem and desire to succeed.
"I am proud of our IAM members in Montréal and Québec who give so much of themselves in order to improve the quality of life for those less fortunate," said Pickthall.
From left to right – Pierre Grenier-IAM District Lodge 11 Directing Business Representative, Luc Morasse – IAM District Lodge 11 Business Representative, Stan Pickthall – IAM Canadian General Vice President, Yvon Paiement – IAM Local Lodge 712 President