Toronto, ON – The rain was constant, the wind was biting and so was the IAM response to privatization of Canada's airports.
IAM members were the most prominent of the airport unions attending the 2017 May Day demo along the departure level at Pearson Airport's Terminal One. The idea was to bring public attention to the trial balloon floated recently by the Trudeau Liberals. The government has calculated it can raise more than $3 billion by selling off Canada's major airports to private interests to pay for infrastructure projects.
"We made a submission to the government spelling out why we are opposed to any privatization – partial or otherwise – of Canada's airports," said IAM Canadian GVP Stan Pickthall. "Any time you turn over a crown asset to the public sector two things happen; the costs go up and the worker pays the price." The location of the protest was not lost on people either since the Greater Toronto Airport Authority, which operates Pearson International, is the only major airport in the country in favour of privatization.
"Vancouver, Calgary and Ottawa airports oppose this idea, Air Canada is against it, they all know that if privatization is allowed their costs will go up and that means the travelling public will pay more not less, " said Pickthall. "Once you turn this into a profit oriented operation the new owners will look for ways to increase profits for their shareholders and that always comes on the backs of the workers. Pearson International Airport is the largest single employer in the city of Toronto and we're already fighting with the GTAA for its constant contract flipping of service provider contracts here. You privatize this airport and that problem will escalate and on behalf of our members we will fight this."
The demo was also another opportunity to bring public awareness to the need for a $15.00/hour minimum wage. "You can't survive on $11.00 an hour," said IAM Local Lodge 2323 President Dave Flowers. "The contract flipping issue here at Pearson creates a precarious atmosphere and workers have to hold down two and sometimes three jobs to support their families and with a $15.00 an hour minimum wage, it would go a long way to make ends meet. This wage level has been adopted at several airports in the US and we'll keep pushing for it here and across the country."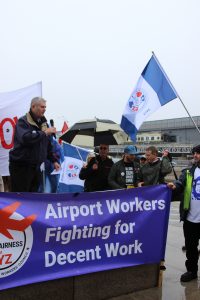 Picture one: IAM Canadian GVP Stan Pickthall tells airports workers in Toronto that the IAM is opposed to airport privatization of any Canada.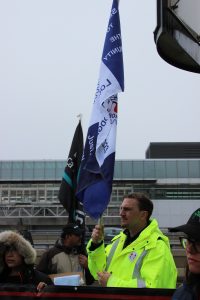 Picture Two: IAM Local Lodge 2323 President Dave Flowers says the IAM will continue to push for a $15.00 an hour minimum wage.