Niagara Falls, ON – Patrons of the Rain Forest Café got more than their lunch over the weekend with a surprise visit by more than 100 IAM members of the Ontario Provincial Council of Machinists. The OPCM members marched through the restaurant in support of striking members of the Workers United Canada.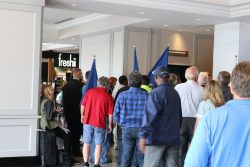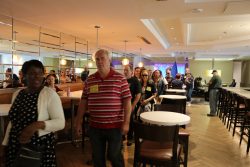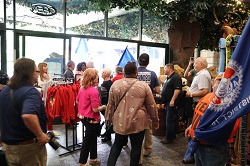 The OPCM invited the workers to attend their convention in Niagara Falls. Workers United representatives spoke to the delegates seeking support. Rainforest Cafe workers are on strike for a fair first contract. They want respect, fair wages, and no tolerance for sexual assault at work.
IAM Canadian GVP Pickthall spoke to the workers and delegates: "you can be assured that Ontario's Machinists Union is behind you 100%. This delegation will be joining you on your picket lines to protest the unfair actions of this employer. Further, we are committing a contribution of $1,000 to support your striking members!"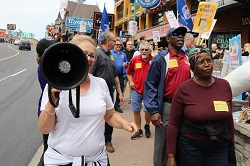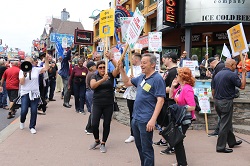 Following the march through the restaurant, OPCM members, including IAM GST Dora Cervantes and Midwest Territory GVP Steve Galloway, joined the picket line and brought solidarity of the IAM representing members across North America.
The members of Workers United Local 2347 at the Rainforest Cafe in Niagara Falls voted down a final offer contract and decided to strike. Local 2347 includes 95 restaurant servers, bussers and hostesses with the popular restaurant owned by Canadian Niagara Hotels. Significant issues include sexual Harassment of female workers and owners stealing worker tips. (Tip-out is to be shared among non-customer-facing staff, but Rainforest Cafe takes half of this tip amount and keeps it for management).
 Pickthall rallied workers and tourists in Niagara Falls to support the cause of these workers: "I bring you the support and solidarity of over 40,000 members across Canada and over 400,000 Fighting Machinists across North America! We demand fairness from this unjust employer! We demand that you get back to the bargaining table and give these workers a fair deal. Sexual Harassment by this employer is unlawful and disgusting! And Rainforest Cafe: stealing tips is not okay!"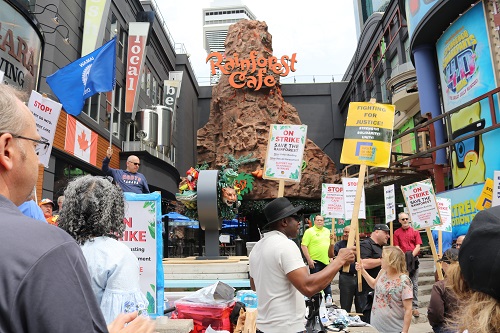 The solution is a simple one, a fair contract that provides respect, fair wages, and no tolerance for sexual assault at work. The IAM will continue to support this group of workers until that goal is achieved.
-30-