Ottawa, ON – The IAM took another step in its fight against airport privatization in Canada when NDP Parliamentary Leader Guy Carron presented the IAM petition to Parliament.
More than six thousand IAM members, friends and family members signed our anti-airport privatization petition which opposes government plans to privatize 18 of Canada's largest airports. "It was very gratifying to see Guy Caron present our petition in the House of Commons today," said IAM Canadian General Vice President Stan Pickthall. "A lot of hard work went into mounting this petition and collecting names from across the country. This was a country-wide effort and our members from coast to coast are to be congratulated. Their jobs and the livelihoods of their families are at stake if the government follows through with this plan. It will cause tremendous harm for short term financial gain if implemented. This petition shows the government there is opposition to that idea."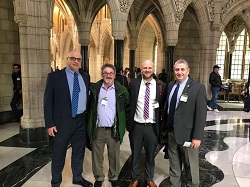 Petition bearers bring the fight to Ottawa – From left to right – Lou Pagrach – IAM Political Action GLR, Gord Falconer – IAM Canadian Chief of Staff, Dan Janssen – IAM Local Lodge 2323 Vice President, Stan Pickthall – IAM Canadian GVP .