Québec City, QC – Coalition Avenir Québec – CAQ – won a majority government Monday night as incumbent Liberals and Partis Québécois faced historic losses in the provincial election.
"The election results were disappointing to say the least," said IAM Québec coordinator David Chartrand. "This was the party who was farthest from our values but democracy has spoken." The CAQ stormed to a majority thanks to strong support from the predominantly francophone regions of Québec winning most of the seats in the suburbs of Montréal, in Québec City as well as central and western Québec. The CAQ won 74 seats in part because many of the Anglophones who voted Liberal in the past did not cast a vote in 2018.
For the Partis Québécois, it fell short of its objective of retaining official party status in the National Assembly. It needed 20 per cent of the vote or 12 seats but attained neither. It finished with just nine seats and 17.1 per cent of the vote. That vote share allowed it to stay just ahead of Québec Solidaire but the left-wing sovereigntist had one seat more with 10.
One day into his mandate, premier-designate Francois Legault laid out his priorities stating he would move forward on his vow to reduce the number of immigrants allowed into the province by 20 per cent. He went even further regarding religious neutrality. At a news conference Tuesday he said he is prepared to invoke the notwithstanding clause to enforce a prohibition on any public employee from wearing a religious symbol such as a hijab, in the workplace. Although he said his immediate focus would be on health care, education and the economy, he made no specific references to organized labour.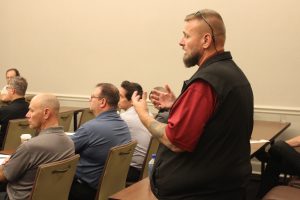 "We are open to a social dialogue and we will give the CAQ their chance to prove us wrong," said Chartrand. "We now have a job to do and we must put our energy into holding this new government accountable for all that they have promised, such as electoral reform, investments in education and health care."
-30-