Flin Flon, MB – IAM Local Lodge 1848 is celebrating its 75th birthday this year and Canadian General Vice President Stan Pickthall, Chief of Staff Gord Falconer and Grand Lodge Representative Tony Didoshak attended ceremonies over the weekend.
""It is an absolute privilege to be invited to attend with my Sisters And Brothers of Local 1848," said Pickthall. "These members are Rock Solid in their support of one another and of working people in Flin Flon and across Manitoba."
It was also Pin Awards night where members are awarded commemorative pins for their years of service with the IAM. Of special note was the 60 year pin awarded to Norm LeClerc. "Norm is the most senior member of our Local Lodge 1848," said Local Lodge 1848 past president Blair Sapergia, "And he served as a financial officer of our Lodge for over 19 years which is certainly also a record." Not all members were available to receive their pins but more than 1,000 years of union service was acknowledged during the ceremony.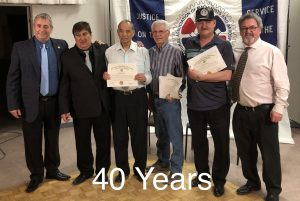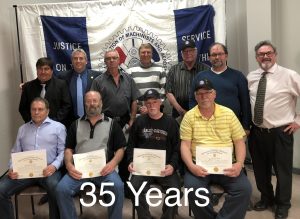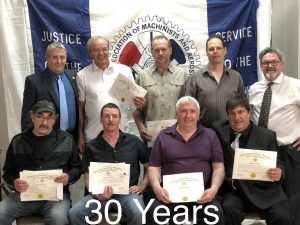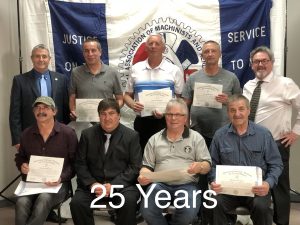 Pickthall spoke briefly of the past struggles endured by members of Local Lodge 1848 when their employer demanded concessions at the bargaining table. "You were united in your Solidarity, and you stood your ground in the face of the biggest employer in Northern Manitoba," he said. "You walked the picket lines for 5 long months, making the greatest sacrifice that working men and women can make."
"I thank you all for your solidarity, I thank you for inviting me to participate in this great celebration of our membership," said Pickthall, "And I especially thank you for not sending me underground this time!"
The members work at Hudbay mining, some 800 kilometers northwest of Winnipeg.
-30-