What we all need now is #GlobalSolidarity!
That was the message and the theme of the IndustriALL North American Communications Forum held at the IAM's William W. Winpisinger Center for Education and Technology on 24-26 September, 2018.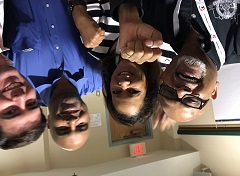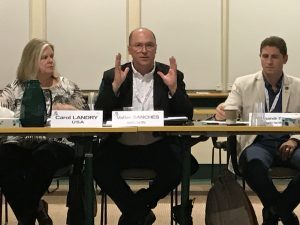 Representatives from the United Steelworkers, Boilermakers, United Auto Workers, MoveUp, the Mexican Mineworkers and Metalworkers, Utility Workers' Union of America and the IAM actively participated in the 2 ½ day conference, information-sharing and strategy planning event.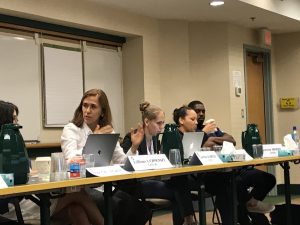 Valter Sanches (@valtersanches), the General Secretary of IndustriALL (@industriall_GU), to which the IAM has been affiliated for more than a century, spoke of the main goals and vision of IndustriALL: "The battles we have to fight must include building stronger unions, fighting global capitalism, organizing  and increasing union membership creating safe workplaces to improve democracy and inclusiveness," said Sanches.
Communications Director Petra Brännmark (@petrabrannmark) and Communications Officer Alexander Ivanou (@alex_ivanou), facilitated the Forum and gave case studies of #GlobalSolidarity. Participants were then asked to share information about their own campaigns.
The final exercise was to take a campaign and see if we would globalize and internationalise it. The experiment was an immediate success and we hope to see it in action from the affiliates who participated.
Communications Representative Frank Saptel (@calix) who represented IAM Canada (@iamawcanada), said of the Forum: "We know the effect local campaigns can have on a global corporation. We must put into practice the notion the #GlobalSolidarity can not only affect a local challenge, it can completely transform it if we take our campaigns to an international level of cooperation and amplification."
Founded on 19 June 2012, IndustriALL brings together affiliates of the former global union federations: International Metalworkers' Federation (IMF), International Federation of Chemical, Energy, Mine and General Workers' Unions (ICEM) and International Textiles Garment and Leather Workers' Federation (ITGLWF).
IndustriALL Global Union represents 50 million workers in 140 countries in the mining, energy and manufacturing sectors and is a force in global solidarity taking up the fight for better working conditions and trade union rights around the world.
-30-