Toronto, ON – Federal New Democratic Party leadership candidate Guy Caron dropped by the IAM Canadian offices last week for a morning visit on the heels of an evening organised by the Caron campaign held in east-end Toronto. Canadian office staff asked questions and received answers from the second-term Member of Parliament for Rimouski-Neigette—Témiscouata—Les Basques. IAM Canada looks forward to meeting with leadership candidates as the party works toward electing a new leader for the federal New Democrats.
"We have not made any decisions about endorsement of a particular candidate at this point, but we are looking forward to meeting with as many of them as we can," said IAM Canadian General Vice President Stan Pickthall. "We will make an endorsement after we have met with the candidates and consulted with our IAM political action committees and activists in the field."
The Federal NDP leadership review will take place in the fall of 2017, IAM activists and members will definitely be participating in this process.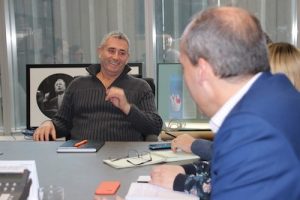 IAM Canadian GVP Stan Pickthall (Center) shares his views with NDP Leadership candidate Guy Caron (Right) at the IAM Canadian offices.