Montréal, QC – "There are several complex issues, which not only threaten the future of Canada's Aerospace Industry, but also the strength and vitality of Canada's economy," said IAM Canadian General Vice President Stan Pickthall. Speaking to the media in Montréal at the unveiling of the IAM Report on a National Aerospace Policy, he called for a National Aerospace strategy because time is running out. "The most pressing need facing the industry is a skilled  labour shortage. It takes anywhere from two to four years to train new workers and we will lose one third of our aerospace workforce within six years due to retirement. Our report calls on the governments at the federal and provincial levels to invest now in training and education, particularly apprenticeship programs that ensure graduates are job ready."
The report provides an overview of the Aerospace Industry in Canada, including a comparison between Canada's main competitor countries and those that are emerging. The purpose is to understand common approaches that Canada can employ to protect and grow its aerospace industry. As a means of managing major obstacles, several targeted recommendations are put forward to address, not only the labour shortage solution but also a funding framework in the interest of growing the sector. The IAM is calling for a coordinated effort between provincial and federal governments, employers and labour.
Pickthall and IAM Québec Coordinator David Chartrand met with representatives of Bombardier and Airbus on Monday to present the report, and seek cooperation in convincing the government to act. "This is an initiative where we have common ground with employers. If we collaborate together, it will be good for the employers, the workers, and the industry," explained Pickthall.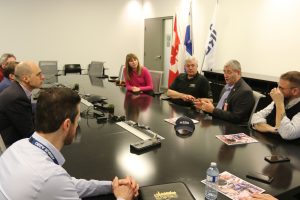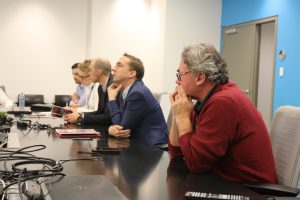 Similar meetings were held with Rolls Royce on Tuesday.
The IAM will be presenting the report in Ottawa later this month where more than thirty MP's from all major parties will be lobbied for support of this initiative.
-30-