Washington, DC – While President Donald Trump demands Canada dismantle its supply management dairy system or risk our trading partnership, and his advisers have reserved a special place in hell for our Prime Minister following his comments at the recent G7 summit, Canada has not taken the bait!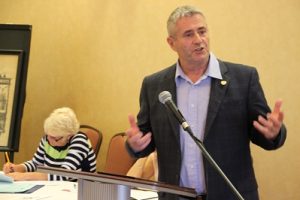 "I did not vote for Justin Trudeau in the last election, and our politics are often polar opposites but I applaud he and his ministers for the way they have responded to Trump's bully tactics," said IAM Canadian General Vice President Stan Pickthall. "You don't pick on your closest ally and trading partner and toss insults at its leader, just so you can look tough to a North Korean dictator. There's too much at stake for workers on both sides of the border to continue this diplomatic brinksmanship."
First Trump imposed 25 per cent tariffs on Canadian steel and 10 per cent on Canadian aluminum imports. Canada responded it would do so in kind on a variety of American made goods beginning July 1st. Then Trump demanded we dismantle our supply-managed dairy system or else. He was playing to the Wisconsin dairy farmers who voted him into office. Canada stated we will defend our country's existing agricultural policies, and would strongly support the current system that uses quotas to control the amount of dairy products produced by farmers, to ensure our national supply matches expected demand. It's a way to avoid surpluses and shortages but also helps to stabilize farmer's income. The Dairy Farmers of Canada stated while Canadians enjoy stable prices and supply, the US Market is vulnerable to unexpected surplus of product, driving prices down for farmers and disrupting the market for consumers.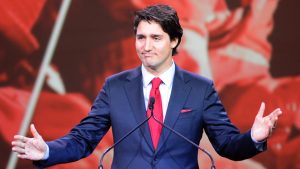 Following the G7 leaders conference in Québec, Trudeau reiterated his message on duties on steel and aluminum that Canada wouldn't be pushed around. This prompted Trump to tweet that Trudeau was very dishonest and weak.
But Trudeau has stuck to his position and he's getting great support from Canadian politicians of all stripes, and even from American politicians. Senator John McCain, tweeted that Americans stand with Canada even if the president doesn't. Senator Bob Corker, Republican Chair of the Foreign Relations Committee said there's no question Trump has damaged relations with Canada. "Canada is not a country that we have trade issues with," he explained.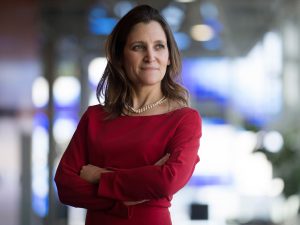 Perhaps the best response to the Trump bully tactics came from Canadian Foreign Affairs Minister Chrystia Freeland after receiving Foreign Policy's Diplomat of the year 2018 award in Washington. She denounced the steel and aluminum tariffs as "absurd" and forcefully argued for preservation of the world's rules-based order – with or without the United States. "I realize that some Americans no longer think that world order is of any benefit to them, even though they helped create it and wrote the biggest cheques to support it, " Freeland told a group of diplomats and politicians. She was blunt in her response on tariffs, in particular the use of Section 232 of U.S. trade laws to justify the action on national security grounds. "The Section 232 action – which is, let me remind people, a national security consideration – is frankly absurd," she said. "That action is also illegal under the WTO and NAFTA rules. We all know we will be strongest with America in our ranks – and indeed in the lead. But whatever this great country's choice will turn out to be – let me be clear that Canada knows where it stands."
Although Freeland never mentioned the president by name, her final comment was quite clear.
"You may feel today that your size allows you to go mano-a-mano with your traditional adversaries and be guaranteed to win. But if history tells us one thing, it is that no one nation's pre-eminence is eternal."
-30-