Burnaby, BC – Janet Andrews of IAM Local Lodge 764 has been acclaimed as Secretary Treasurer of the New Westminster and District Labour Council for a second term. Janet is the first IAM member appointed to a full-time position with the council.
"I am honoured to have the support and trust of our delegates and Affiliated Unions for my second term as full time officer of the Labour Council," said Andrews. "I am passionate about the work we do and look forward to continuing to grow our Council and the Labour movement."
Andrews said the biggest challenge during her first term was the 2018 Local Government Election Cycle. "Our Labour Council has been active in local politics for more than fifty years, and there is a great legacy to uphold and build on." The Council endorsed 95 candidates for Mayour, City Council and School board, with the majority identifying as women. Sixty-one of those candidates were elected, including Burnaby Councillor Sav Dhaliwal who is now the Board Chair of Metro Vancouver, and New Westminster Mayor Jonathan Cote who is the new Chair of the Translink Mayor's Council, overseeing transportation in Metro Vancouver. Our progressive local officials have introduced Living Wage initiatives, support for housing affordability measures, campaigns for poverty reduction and free transit for youth and children under 18.
The next challenges are the federal by-election in Burnaby South where NDP leader Jagmeet Singh is running, and the federal election in the fall of 2019. "Politics is so important to the work we do at the Labour Council," said Andrews. "We were pleased to have Federal NDP Leader Jagmeet Singh, MP Peter Julian and BC Minister of Labour Harry Bains speak at our meetings last year. I was also honoured to have the endorsement and support of Peter Julian in my own campaign for re-election as Secretary-Treasurer".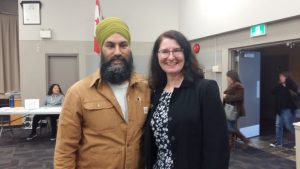 NDP leader Jagmeet Singh with Janet Andrews
The job isn't all politics there is also a lot of community work which is line with the IAM motto, service to the community. "Another highlight was our successful Union Protein Project community forums in Surrey and Burnaby," explained Andrews. "Machinists from Lodges 764 and 692 were an integral part of the success of our UPP events, making hundreds of cotton candy cones and staffing craft tables for kids."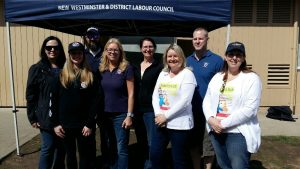 Service to the Community, Machinists outside the Cotton Candy tent of the Union Protein Project from left to right: Tania Canniff, Christy Dixon, Dave Marshall, Laura Sharpe, Janet Andrews, Shelley Cermak, Austen Knight and Leeanne Siewert of IAM Local Lodge 764.
Janet has been an IAM member since 1998 when she became a Customer Service Agent with United Airlines at Vancouver International Airport. After United closed its operations in Canada, Janet was employed at the 911 Call Centre. She is the Chairperson of the IAM Local Lodge 764 Women's Committee, the IAM representative on the BC Federation of Labour Women's Committee and Chairperson of the Local Lodge 764 Political Action Committee. "I would not be here without the support of my Local Lodge 764 and Brother Walter Gerlach and the Local Lodges of District 250. I am excited to have this opportunity to continue working to make life better for working people and families in our region."
-30-