Las Vegas, NV – US Democratic Presidential hopeful Amy Klobuchar put her credentials before delegates to the IAM Transportation Conference  here today.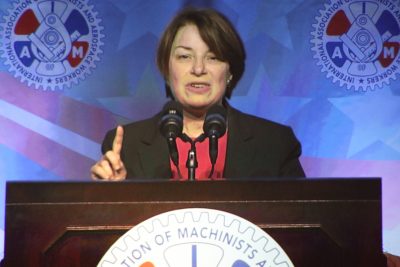 "I didn't come from money but I have grit," she told delegates, comparing her background to the silver spoon upbringing of US President Donald Trump. Her grandfather was an iron ore miner, her father a journalist and her mother a teacher. "I learned from my grandfather that when union workers are strong all workers are strong."
Klobuchar told delegates America must govern from opportunity not the chaos created by the current administration. "I would never hold our federal workers hostage just to pay for an ideological campaign promise," referring to Trump's determination to build a border wall along the Mexican border.
But when you're trying to garner support for a presidential run you have to come up with ideas as an alternative to the current administration and provide solutions on how you can pay for these ideas. The first female senator elected from Minnesota rolled out some of her platform for the delegates to digest. "America can be competitive again and it will take a massive infrastructure program to do it," she said. "I would call for a trillion dollar infrastructure program and I would raise the corporate tax rate to 25 per cent to pay for it. I will bring back a sense of community and end the digital divide created in Washington. I will move to take back our health care, stop the attacks on unions and introduce a federal minimum wage of $15.00 an hour."
Klobuchar is one of 18 declared candidates vying for the democratic presidential nomination.
-30-