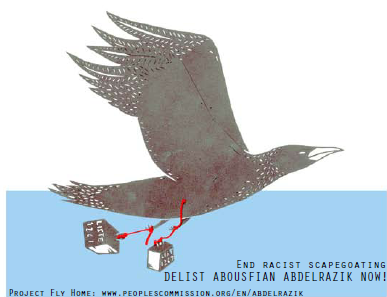 By Mary Foster – Project Fly Home
Abousfian Abdelrazik, a native of Sudan and a trade unionist and machinist by trade, fled his native country to Canada to avoid a military coup and start a new life. All went well with living in Canada until he decided to return to Sudan to visit his mother in 2003. His visit was to last six years in which he was jailed without charge or trial, and endured torture, solitary confinement and other abuse. He is the only living Canadian on the United Nations No Fly List – his arrest and placement on the list was at the request of the Canadian Security Intelligence Service (CSIS). The Federal Court ordered the Canadian government to bring him home and in 2009 with the assistance of his support group, Project Fly Home, he did just that. On Friday May 15, 2010, he addressed the members of the IAM Quebec Machinists Council in Sherbrooke, Quebec. Here, in an exclusive  to the IAM Journal, Abousfian Abdelrazik, explains to Mary Foster for the IAM Journal, what it was like to live in a "prison without walls"
IAM Journal: Your name was in the media a lot last year. Can you explain why?
AA: In 2003, I went to Sudan on a visit to my mother, but was forced to stay there for over six years. I was arrested and jailed for about twenty months, though I was never told why. In fact, as I found out later [when lawyers obtained government documents through the Privacy Act], my arrest took place on the request of the Canadian Security Intelligence Service (CSIS). When I got out of jail, I kept trying to come back to my home in Montreal, but I wasn't able to leave because my passport had expired while I was in prison and my name is on a blacklist. Finally, I went public with my story in 2008. Because of that publicity, I was forced to take refuge in the Canadian embassy in Sudan for my protection. I had to live there for about fourteen months. In the end, I came back to Canada when the Federal Court ordered the government to bring me home [the court said that the government had acted in bad faith and breached his rights]. Many people in Canada also supported me and worked very hard to bring me back – both through legal work and with public pressure.
IAM Journal: Let's go back for a moment. Why did you originally leave Sudan? What was your work when you were in Sudan?
AA: I graduated from the high technical school in Sudan as a machinist about 25 years ago. Then I worked as a machinist for a sugar company in Sudan. I was a member of the labour union. When the Bashir government came to power in a military coup, the union protested. As a member of the union I was jailed. When I could, I fled the country. I found safety and started a new life in Canada.
IAM Journal: Coming back to the present, you've now been home for almost a year after your terrible six-year ordeal, which included not only prison without charge or trial, but torture, long periods in solitary confinement and other abuse. What's it been like to be back? Have you been able to return to work?
AA: There is a big difference between being stuck inside an Embassy for 14 months, and being able to walk on the street freely. It was a big relief! Being united with my kids was wonderful. To be able to tell people my story directly, from my own mouth, is also very important to me. In addition, it is wonderful to be with the people in Canada who supported me; to be able to sit down with them and share ideas directly, in person, not through the telephone; see the expressions on each others' faces.
 
But even though I came back home, the struggle still continues. Though I am physically here, barriers remain. My name is on a United Nations Security Council list. In that sense, I am still in a prison, though it is a prison without walls. This list is known as the 1267 list. Everyone on this list is subject to a travel ban and financial sanctions. In Canada, this means that I cannot work, because anyone who pays me a salary, or gives me money in any way, could be charged.
IAM Journal: How did you find out you were on this list?
AA: While I was in Sudan, I was informed by an official of the Canadian Embassy in Khartoum, Sudan that my name had been added to this list.
IAM Journal: I understand that this happened in the summer of 2006, just after you were released from prison for the second time, and were trying to return to Canada. This effectively delayed your return to Canada for another three years. A travel ban and financial sanctions – not being able to work – that is a significant loss of freedom! How did this happen? Were you charged with anything? Did you have a trial?
AA: I have never been charged with any kind of crime. I have never had a trial. It is very frustrating; very difficult. The two security agencies in Canada have cleared my name; and I have been cleared by Sudan too. It makes me all the more frustrated – I just don't understand. Six years are gone from my life and I am not young, Ii am almost fifty. To be in this situation – you don't have a way to get out of it, because it takes place at the highest levels of authority in the world. It is very difficult for an individual to be heard at that level – it takes a government to get you off this list.
IAM Journal: You are a Canadian citizen. Has Canada done anything to try to address this situation?
AA: Since I came back to Montreal last year [June 2009], they haven't done anything. In 2007, on the request of my lawyers, Canada did ask the UN Security Council to take my name off the list. But I am not sure how hard they tried, because I am still on the list, even though Canada's own security agencies say they have nothing against me!
IAM Journal:. Worse than that, the Canadian government is still imposing the sanctions on you. Canada should immediately stop imposing the sanctions on you; it is a clear violation of your rights and runs counter to all principles of justice, as the Federal Court of Canada ruled in June 2009. What are doing to try to get yourself off this list?
AA: The only way I can see is to try to push the government of Canada to act on my behalf. I met with all the opposition parties. We have a public campaign to put pressure on the government. I think it is a shame that the government of Canada, that is supposed to be democratic and claims to be civilized, acts this way – has put someone in this situation.
IAM Journal: Your campaign is gaining a lot of support. Organized labour is taking a strong position in support of your rights as a worker in the "Just work! Work against the 1267 prison" campaign. Why is this important to others? Why should other people support you, defend your right to work freely, and oppose this list?
 
AA: In the first place, I am a fellow human being. I share the same place, air, future with the rest of the people of Canada; I am one of you. That's why people should support me! The way I see it, people all together are like a building. If you take bricks from the building, it falls down. If all the bricks stay together, the building can be built high and strong. We are like a body – if one part hurts, the whole body can't rest.
Right now Muslims are being targeted. And maybe this kind of thing can be done to people who are black like me. But this is a kind of disease that spreads: if the government is allowed to act this way with me, later it may affect other groups. People have to stand together to put an end to it.
 
I fully believe that people in my home Canada will support me, and particularly those of us who share a room in that home as machinists.
For more information:
Project Fly Home, www.peoplescommission.org/en/abdelrazik
Projet retour au bercail, www.commissionpopulaire.org/fr/abdelrazik